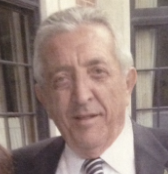 Sam LoChirco personally supervises the construction of each new home his company builds, making sure the high standards he expects are met.
Oliver Homes' customers appreciate the company's reputation for constantly introducing exciting and functional new design concepts into their homes. Sam was one of the first builders in the area to introduce two staircases in a home design, providing homeowners convenient access to the second level.
Sam is also well-known for building the rear decks of his homes using structural steel with a concrete surface finish rather than the more convenient wood decking. Sam notes, "We pay attention to what people want to see in their home, and we are finding that people are no longer happy with wood decks. Steel and concrete make a much stronger deck, and the finish product is very beautiful."
Sam has recently incorporated a Loggia (covered porch) concept to some of new home constructions.
Oliver Homes is entering the final phase of construction in Carrington Manor, a gorgeous community set in the rolling terrain of Shelby Township. Located on 25 Mile Road just east of Dequindre. Carrington Manor features custom-built homes from 3,000 square feet and larger.
An extraordinary opportunity to enjoy legendary Oliver Homes' craftsmanship on a smaller scale is being presented in Madison Manor Villas, a Brownstone-style condominium community located in Macomb Township on Garfield Road just north of Hall Road. Madison Manor has floors plans of greater than 1,500 square feet with full basements and two-car garages. It is a very good location and a good investment for someone looking for a well-designed condominium.
Sam's again keeping up with the evolving needs of his customers with the development of a senior apartment complex, Four Seasons Adult Living. The complex will be located on Card Road in Macomb Township.
Sam LoChirco has witnessed countless changes in the construction industry since building his first home in 1965. While the industry has changed a great deal over the years, Sam's hands-on philosophy and commitment to his customers, employees, suppliers and subcontractors has never wavered. Oliver Homes' fresh approach to design innovative features, commitment to craftsmanship, and pride in taking care of the details in home building has earned the company a longstanding reputation for integrity in product and lasting customer relationships.
Sam is a devoted husband, father and grandfather. His wife, Pauline, and daughters Maria, Roselee and Trina have all been a part of the business over the years. Their strong family values are integral to the business they have built over their lifetime.